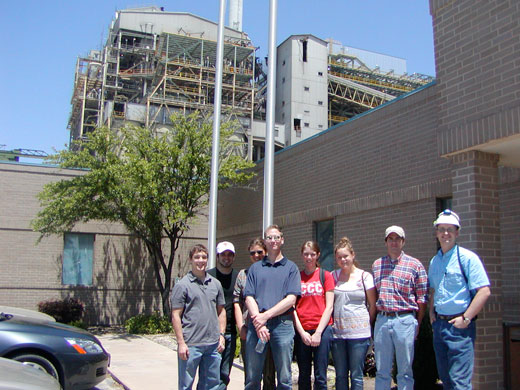 Organized by Dr. Carey King of the Gulf Coast Carbon Center and Cliff Clark of Luminant, a member of GCCC's Industrial Associates, University of Texas graduate and undergraduate students visited Luminant's Sandow Power Plant in Rockdale, Texas on April 26, 2010. The tour of the plant and a discussion of the facilities were directed by Steve Skidd, the Director of Generation, and Brad Masek, Plant Engineer.
Setting the context for the trip, Luminant's Cliff Clark asked the students to consider the types of technologies needed in order for power plants to connect with carbon storage systems, and the challenges associated with implementing those technologies.
The Sandow Power Plant is located in Rockdale, TX, about an hour northwest of Austin. It generates electricity from lignite, a form of coal, mined from Three Oaks Mine, also a Luminant facility. The plant has two units in operation, called Units 4 and 5, that together generate just under 1,200 MW, enough energy to power 800,000 homes.
Unit 5, completed in 2009, relies on a state-of-the-art technology called a circulating fluid bed (CFB). This design uses upward-blowing jets to suspend the lignite in the air during combustion. The result is a constantly moving mixture of solids and gases that allows for efficient chemical reactions in the furnace and efficient transfer of heat energy to steam. The boiler operates at lower temperatures than traditional systems, which allows for more flexibility in type of fuel used and decreases the amount of sulfur and nitrogen oxides produced.
Built in 1981, Unit 4, uses technology called supercritical steam generation. Lignite is pulverized and injected into two boilers, the walls of which are composed of water tubes that generate steam. The steam is then reheated to supercritical temperatures and used to turn a turbine. Effluent from the boilers is passed through a limestone slurry to remove sulfur. Recently, a major construction project retrofitted the unit with a selective catalytic recycler (SCR) to strip nitrogen from the flue gases.
After the plant tour, the group discussed the continuing efforts to improve environmental impacts and some of the difficulties associated with making changes to operational power plants. In particular, energy requirements for capturing carbon dioxide at Sandow would be 25% of the power the plant produces, so significant dialogue involved various alternatives for capturing carbon dioxide. Clark asked the students to keep in mind that carbon sequestration requires a comprehensive carbon management system as they pursue their research.
Following the field trip, Carey King summarize the day, "The plant visit to Sandow was a great educational experience for the students who have various backgrounds in engineering, geology, and policy. Cliff Clark, Stephen Skidd, and Brad Masek of Luminant treated us to a superb tour allowing us to see first-hand how the different steps in the coal electricity process fit together. You see how a power company has to adapt its operations over the life of its assets."
April 26, 2010