Research, Technology, and Education for the Geological Storage of Carbon Dioxide (CO2)
Industrial processes such as the production of cement, iron and steel, and petrochemicals, as well as burning fossil fuels (e.g., gas, oil, and coal) has measurably increased CO2 in Earth's atmosphere. The long-term consequences of increased concentrations of CO2 gas in Earth's atmosphere will have negative impacts to oceans and climate.
One possible response is to capture CO2 in industrial settings and reinject it into deep geological reservoirs where it will be retained for long periods of time. This process is called geological sequestration, or carbon capture and storage (CCS).
The Gulf Coast Carbon Center (GCCC) seeks to impact global levels of atmospheric CO2 by
Conducting studies, often focusing on the Gulf of Mexico, in regard to geological storage, retention and monitoring of CO2 in the deep subsurface
Educating the public about the process of geological CO2 storage, the risks and mitigation measures associated with carbon capture and storage deployment
Enabling the private sector to develop an economically viable industry to store CO2 in the Gulf of Mexico, across the U.S., and globally
Since 1998, the GCCC has been a global leader in research that facilitates a proactive response by energy-related businesses to reduce atmospheric release of CO2. The GCCC has led or is in the process of conducting several major field research projects onshore and offshore to develop effective technologies to monitor retention of CO2 in the subsurface. In addition, the GCCC has led a number of diverse projects including estimation of storage capacity, enhanced oil recovery (EOR) screening and economic assessments, risk and monitoring of leakage to water and surface resources, assessment of pressure, and whole-system integration.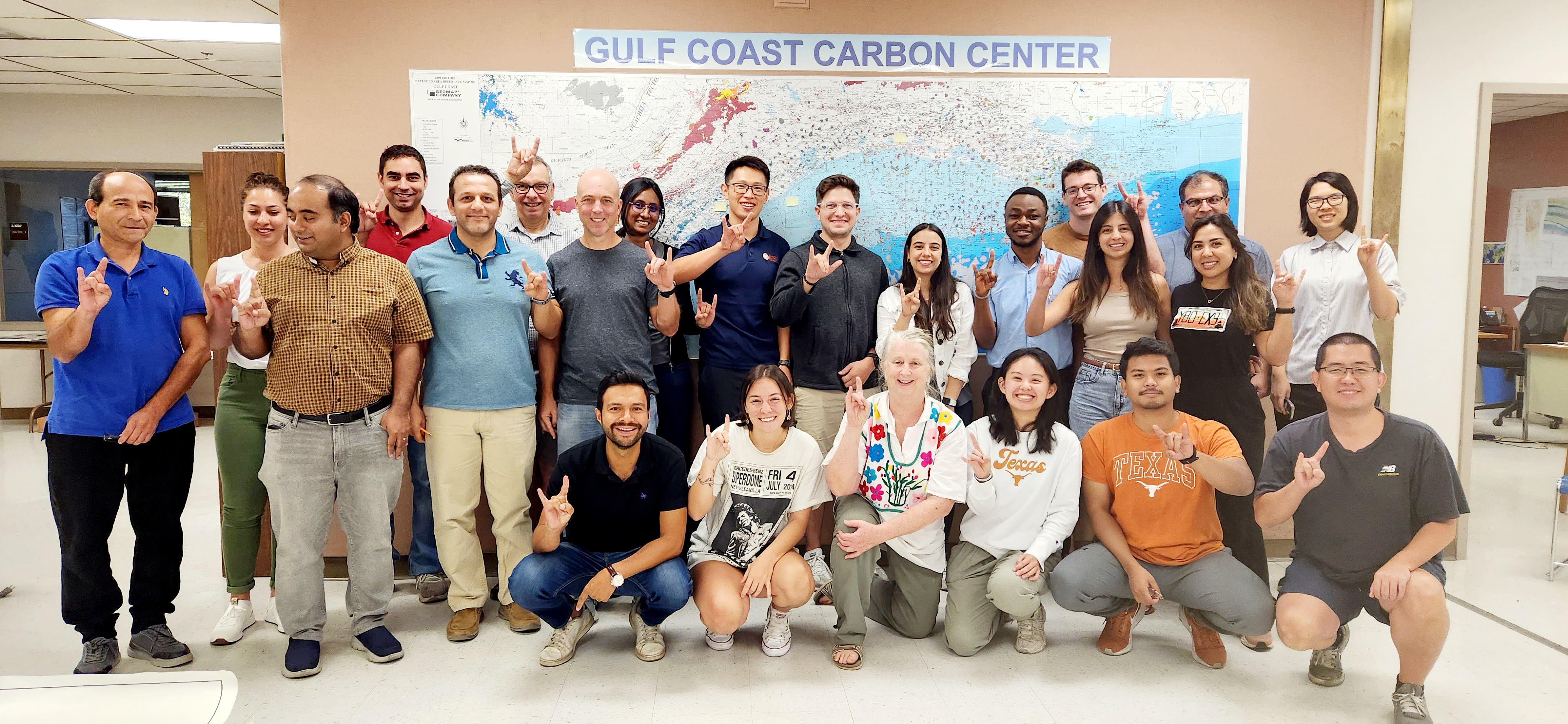 Recent News
September 13–15th, 2023: The 6th International Workshop on Offshore Geologic CO2 Storage, hosted by the Gulf Coast Carbon Center, IEAGHG, and Storegga, will be held at the University of Aberdeen in Scotland…click to read
---
September 1, 2023: As a collaboration with the King Abdullah University of Science and Technology (KAUST), we are excited to announce the release of an Earth-Science Reviews manuscript that Dr. Tip Meckel co-authored entitled, Evaluation of geological CO2 storage potential in Saudi Arabian sedimentary basins. To read more click here.
---
September 1, 2023: The GCCC welcomes 5 new graduate research assistants to our program and 1 undergraduate research assistant…click to read
---
August 29–31, 2023: The GCCC's Ramón Treviño will attend and present a talk on August 31, 2023 at the Texas Groundwater Summit held in San Antonio, TX…click to read
---
August 28–September 1, 2023: Representatives from the Gulf Coast Carbon Center will be attending the 2023 FECM / NETL Carbon Management Research Project Review Meeting that will be held in Pittsburgh, PA....click to read
---
August 26 to September 1, 2023: GCCC Representatives will attend AAPG and SEG's International Meeting for Applied Geoscience & Energy (IMAGE) 2023 including Carlos Uroza, Ismail Faruqi, and Charlie Zheng…click to read
---
August 8–10th, 2023: The IEAGHG Monitoring Network Meeting will be held at the Louisiana State University in Baton Rouge, LA…click to read
---
July 24–28th, 2023: The Gulf Coast Carbon Center hosted a GeoFORCE 12th grade academy…click to read
---
July 21, 2023: Drs. Sue Hovorka, Katherine Romanak, Tip Meckel and Alex Bump provided a presentation about coastal Carbon Capture and Storage for ~30 people at the Texas General Land Office....click to read
---
July 17–21, 2023: Dr. Sahar Bakhshian's M.S. Student, Richard Colt Larson, attended the Discrete Simulation of Fluid Dynamics Conference at the University of New Mexico (UNM), in Albuquerque, NM....click to read
---
July 16–25, 2023: The GCCC's M.S. student, Jose Ubillus, will be attending the 19th annual RECS program… click to read
---
June 29, 2023: The Switch Energy Alliance (SEA) invited Dr. Sahar Bakhshian from the Gulf Coast Carbon Center to discuss carbon capture and storage at the Bureau of Economic Geology to a group of staff and teachers from the U.S.A. …click to read
---
June 22–23, 2023: As an observer, Ramón Treviño attended an EPA Region 6 public hearing in Baton Rouge, Louisiana…click to read
---
June 20–22, 2023: Dr. Katherine Romanak virtually attended, and presented, at a workshop held by the National Academies of Science…click to read
---
June 20, 2023: The GCCC's Postdoctoral Fellow, Dr. Zhicheng (William) Wang, participated in the Colorado River Alliance outreach event, known as Groundwater to the Gulf (G2G)....click to read
---
June 13–14, 2023: Dr. Katherine Romanak was an invited speaker at the Global Cement and Concrete Association CEO Gathering and Leaders Conference, held in Zurich, Switzerland…click to read
---
June 12–August 25, 2023: The GCCC's M.S. Student, Shadya Taleb Restrepo, will be interning with Repsol's Geological Low Carbon Group based in Houston, Texas....click to read
---
June 5–7, 2023: Dr. Katherine Romanak was an invited speaker at the Caribbean Sustainable Energy Conference in Point Lisas, Trinidad and Tobago…click to read
---
June 3–4th, 2023: Dr. Katherine Romanak participated in discussions around the Sharm el-Sheikh Implementation Plan First Global Dialogue… click to read
---
June 1st, 2023: The GCCC welcomes Zahra Bajalan as a summer graduate research assistant working with Dr. Sahar Bakhshian on reactive transport modeling of CO2 and brine leakage to groundwater aquifers…click to read
---
June 1st, 2023: The GCCC welcomes Dr. Ali Farhadinia as Dr. Sahar Bakhshian's Research Engineering/Scientist Assistant who will model and simulate CO2 and brine leakage into drinking water resources to quantify potential impacts of leakage regarding groundwater quality…click to read
---
June 1, 2023: The GCCC welcomes the JSG EER M.S. student Sawsan Almalki who will be working with Dr. Seyyed Hosseini for her M.S. project…click to read
---
June 1st, 2023: Dr. Sahar Bakhshian's M.S. student, Richard Colt Larson, was awarded the U.S. Department of Energy's (DOE) Mickey Leland Energy Fellowship (MLEF)… click to read
En español: la información de almacenamiento geológico de carbono
---