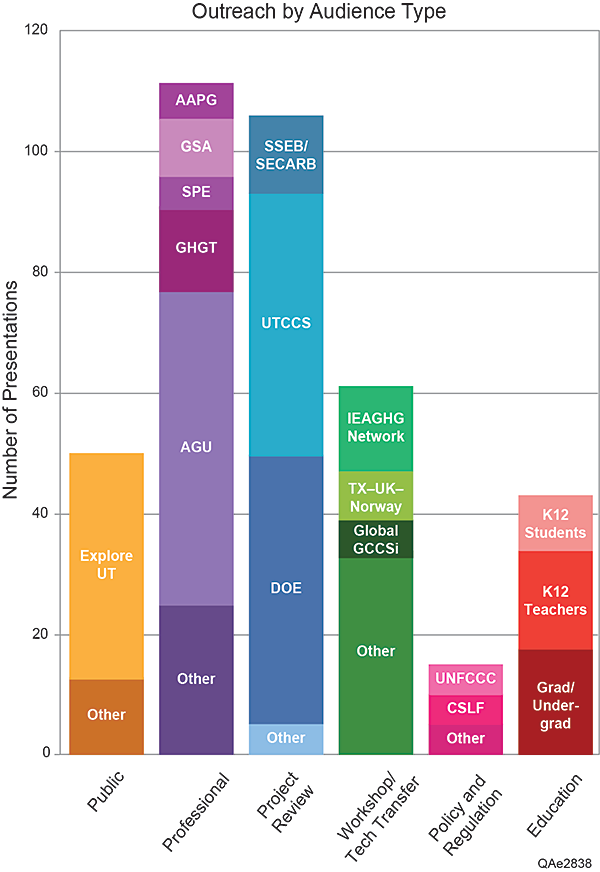 Outreach, Training, Policy, and Regulation
Theme 5: Outreach, Training, Policy, and Regulation [PDF]
The major goal of this theme is to increase accessibility of GCCC results and provide technical information relevant to policy.
Accomplishments
Gave 384 presentations worldwide; hosted more than 40 U.S. and international colleagues from academia, industry, and non-governmental organizations (NGOs).
Supported and advised [PDF] 29 undergraduate and graduate students and postdoctoral fellows. Developed and taught a cross-disciplinary graduate course at The University of Texas at Austin in geologic storage of CO2.
Published 58 papers on GCCC research.
Expanded information platforms over which GCCC provides information to stakeholders; registered a higher-than-average open rate on electronic messaging.
Partnered with multiple outside research institutions in collaborative field injection experiments; provided technical expertise on carbon capture and storage (CCS) to regulators and policy-makers.
Impacts
Collaboration [PDF] with the International Energy Agency Greenhouse Gas R&D Programme's (IEAGHG) Monitoring Network led to GCCC representation within the United Nations Framework Convention on Climate Change (UNFCCC).
Delivered over 8,000 training and education contact hours; 4,400 continuing education units, and 3,500 coursework contact hours related to CCS through GCCC's outreach partner STORE [PDF].
Student mentoring gave GCCC sponsors, other companies, and academic institutions a more informed workforce.
GCCC influence increased through additional dollars provided by new members: Korea Carbon Capture and Sequestration R&D Center (KCRC) and Ecopetrol.
Prominence of GCCC led to award from U.S. Department of the Interior to develop a best-practices manual for injection of CO2 in the Outer Continental Shelf.
GCCC provided technical expertise [PDF] to U.S. offshore CCS (Bureau of Ocean Energy Management [BOEM]) and Environmental Protection Agency (EPA) regulators.
Geographic Coverage
GCCC researchers visited stakeholders in 17 countries; 83% of activity was within the United States, 44% in the Gulf Coast region.
GCCC researchers hosted visitors from 11 countries: Australia, Botswana, Brazil, Colombia, Ghana, Japan, Korea, Norway, South Africa, Taiwan, and U.K.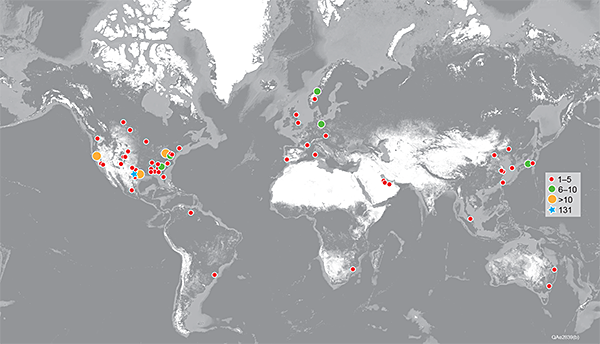 Collaborative Research Partners
American Water Works Association
Carbon Counts
CO2 Capture Project—British Petroleum
Cooperative Research Centre for Greenhouse Gas Technologies (CO2CRC)
Det Norske Veritas (DNV)
Electric Power Research Institute (EPRI)
Intelligent Optical Systems, Inc.
Lawrence Berkley National Labs (LBNL)
Lawrence Livermore National Labs (LLNL)
Mesa Photonics
Mississippi State University
Oak Ridge National Lab (ORNL)
Research Institute of Innovative Technology for the Earth (RITE)
Sandia National Laboratories
University of Durham
University of Edinburgh
University of Florida at Miami
University of Mississippi
The University of Texas at Austin™ (UT Austin), Chemical Engineering
UT Austin, Jackson School of Geosciences (JSG), Department of Geological Sciences
UT Austin, JSG, Energy & Earth Resources
UT Austin, JSG, Institute for Geophysics
Wood Group Mustang
Staff Publications by the Numbers
58 papers in peer-reviewed journals
74 abstracts in presentation proceedings
16 papers in the International Journal of Greenhouse Gas Control (IJGHGC) Special Publication on carbon sequestration stacked storage test at Cranfield, Mississippi site