Comments on Geologic Parameters
07 Top Seal Thickness:
The top seal for the Repetto Formation in the Los Angeles Basin consists of inner neritic to upper bathyal shales in the Lower Pico Formation. Factors controlling the top-seal thickness of the Repetto Formation are a combination of the Repetto facies distribution and relief on the angular unconformity at the base of the overlying Pico Formation (Henry, 1987). The top-seal thickness was measured from electric logs on structural cross sections of the Repetto and younger formations in the Los Angeles Basin (Henry, 1987). These top-seal values, contoured from approximately 40 data points, display extreme variability, ranging from 0 to 800 ft (0 to 243.9 m). Locally there is no Repetto top seal where Pico sandstones are in direct contact with underlying Repetto sandstones; however, these areas of no top seal are limited in areal extent.
07 Map: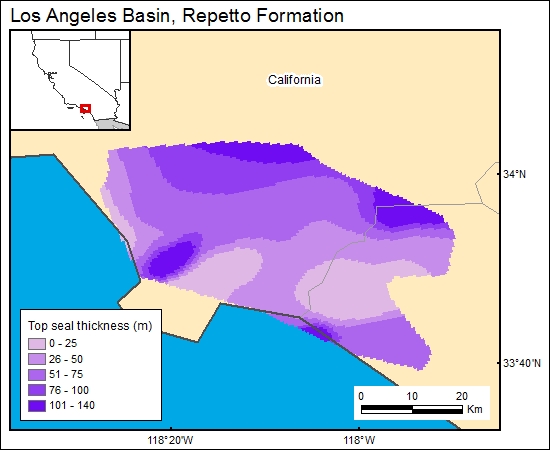 07 Reference:
Henry, M. J., 1987, Los Angeles Basin—an overview, in Clarke, D., and Henderson, C., eds., Oil-producing areas in Long Beach: American Association of Petroleum Geologists Field Trip Guidebook, Pacific Section, p. 1–29.