Comments on Geologic Parameters
08 Continuity of Top Seal:
The reason for the enormous variability in continuity of the Repetto top seal is that the overlying Pico Formation is in unconformable contact with the Repetto Formation, exhibiting hundreds of feet of erosional relief (Henry, 1987, his plate 3). For example, in the northwest part of the basin in the Torrance and Wilmington Onshore areas, basal sandstones of the Pico Formation are in direct contact with upper Repetto sandstones, with consequently little potential for vertical seal. However, in the Wilmington Offshore area, there is approximately 100 ft (30.5 m) of continuous shale above the Repetto Formation. Farther to the southeast in the Belmont Offshore area, the basal Pico unconformity rises with respect to the Repetto Formation, resulting in preservation of additional upper Repetto strata and introduction of extreme variability in the lithologic nature of the Pico-Repetto contact. In the West Newport fault block, there is continuous shale top seal above the Repetto Formation, 100 to 200 ft thick (30.5 to 61.0 m). Toward the northeast (Sunset Beach area), the basal section of the Pico Formation commonly consists of a 100- to 200-ft (30.5- to 61.0-m) sandstone above a sandy section of the upper Repetto (Henry, 1987, his plate 2). Farther northward in the West Coyote, Leffingwell, Santa Fe Springs, and Montebello areas, the upper Repetto Formation is shalier, consisting of multiple upward-coarsening parasequences separated by hundreds of feet of shale. Consequently this part of the basin is inferred to contain a higher potential for top seal of injected gases.
08 Map: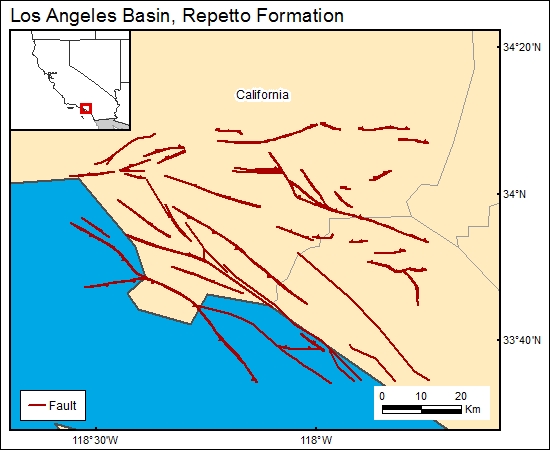 08 Reference:
Henry, M. J., 1987, Los Angeles Basin—an overview, in Clarke, D., and Henderson, C., eds., Oil-producing areas in Long Beach: American Association of Petroleum Geologists Field Trip Guidebook, Pacific Section, p. 1–29.