Alabama and Mississippi
Comments on Geologic Parameters
08 Continuity of Top Seal:
A northwest-trending, high-angle normal fault, which probably formed in response to the compressional forces associated with the Ouachita Orogenic Belt, is the main structural feature of the basin. Two major lineaments are also present. One trend, N30-60E, is parallel to the main trend of normal faults (Pashin and others, 1991). The faulting influenced sediment deposition and induced natural fractures that often enhance permeability and affect diagenesis.
08 Map: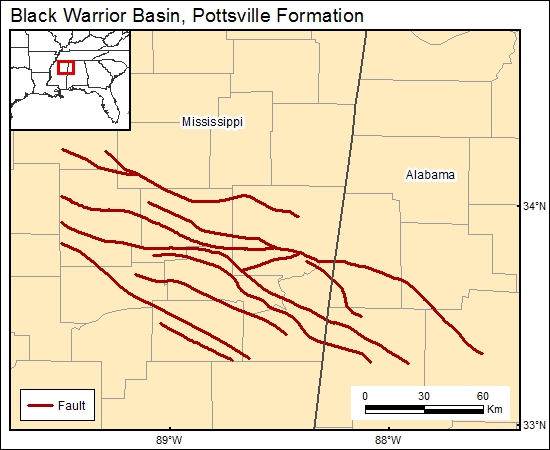 08 Reference:
Pashin, J. C., and others, 1991, Structure, sedimentology, coal quality and hydrology of the Black Warrior Basin in Alabama: controls on the occurrence and producibility of coal methane: The University of Texas at Austin and Geological Survey of Alabama, Bureau of Economic Geology, GRI Contract Number 1544, 187 p.